Tour of Greater Pench
26-29 January 2023
Tour of Greater Pench is a fully supported, 4 Days, MTB cycle tour in and around Pench National Park in the state of Madhya Pradesh and Maharashtra, India. ToGP has evolved from our earlier 3 days in the Pench, called as Tour of Mowgliland. ToGP includes additional parts of the Pench in the route and is a day longer as well. Tour of Greater Pench 'ToGP' gives you a genuine impression of the woods, wildlife, village life, culture, rivers, mountains, forest lakes and reservoirs while riding on your mountain bike. During 4 days of ToGP, you'll ride 350 kilometres through Mowgli's realm, a place where stunning Satpura-Maikal vistas are mixed with beautiful village huts, agriculture fields and forest, keeping you overwhelmed and humbled with each kilometre you pedal through this beautiful landscapes. Jungles of Pench are where the story of Mowgli, known as The Jungle Book, by Rudyard Kipling is set in.
Start Point: Sillari (How to reach?)
End Point: Sillari, Pench
Tour Dates: 26th-29th Jan 2023
Riding Days: 4 (25th Jan will be Day 0)
Total Mileage: 350 KMs (Approx)
Attractions: Traffic-free route, riding in forest, wild-life, beautiful villages.
Tour Fees: Rs 23,000 (Stay,Camping, On-Ride Support)
DAY 0 – Ice Breaker
Sillari, 25th Jan 2023
We will be staying near the Sillari gate in forest rest house. The night will be filled with noises of the jungle and it is a wonderful experience to have.
Participants arrive by afternoon at Sillari, Kit Distribution, Introduction of Participants, Guides and Organisers and bike check.
DAY 1 -Welcome by the Wolfpack
Sillari – Karmajhiri, 26th Jan 2023
Day 1 ride starts on Republic day after hoisting of tricolor at Kolitmara: a tribal village situated at the bank of Pench river. Ride starts through an off-road uphill jungle progressing further through picturesque quaint villages dotted around the forest in scenic traffic-free roads surrounded by farmlands. As you cross Ghatkukda village, you enter Madhya Pradesh State. The 75 Kms ride passes through Jamtara Gate of PTR MP, Pench River and terminates at Karmajhiri Gate of PTR MP. Karmajhiri gate is famous for its herds of deers grazing right beside the forest rest house. The phone network coverage is erratic.
Route attractions: We will explore PTR buffers on the hilly terrain of west side of Pench river: the lifeline of Nagpur. Jamtara Gate, Satapura-Maikal landscape, Pench river and Karmajhiri gate.
Start Point: Sillari Gate End Point: Karmajhiri Gate
Distance: 75 KMs (Mix of on and off road)
Day 2 – Shere Khan's Lair
Karmajhiri – Sakata, 27th Jan 2023
The north side of Pench Tiger Reserve, from Karmajhiri has a fairly straightforward downhill on flat asphalt road, until you reach Daundiwada village. Enroute you will visit the origin of a main tributary of Godavari: the Wainganga. From Daundiwada onwards, you will ride through one of the most picturesque off-road route. You will spend the Day 2 night at Sakata, a little tribal village with a population of 82 close to the Sakata Forest Resthouse, built in 1903. Spending a night under the light of the moon in the deep forest will help you understand the reason why we included this beautiful place in your itinerary. It is an unparalleled experience and our favourite night.
Route attractions: Wainganda River origin at Mundara village, Ride through dense forest of Pench-Kanha Tiger corridor, rural landscapes, farmlands, forest trail riding.
Start Point: Karmajhiri End Point: Sakata
Distance: 70 KMs. (Mix of on and off road)
Day 3 – Time Travel
Sakata – Turiya , 28th Jan 2023
An off-road trail through Rukkhad-Sakata ancient highway, once a connection between MP and Maharashtra, will mesmerise you with the jungle's biodiversity and wildlife wealth. When we exit from Masurnala gate and ride just 1 kilometre on NH7 to enter again in the woods on mixed off-road routes you will be mesmerised to ride on until you arrive at resort for a comfortable and cosy stay so that you can prepare for your return trip the next day.
Route Attractions: Ancient route Rukkhad Sakata, Masurnala gate, beautiful village offroads, Turiya gate.
Start Point: Sakata End Point: Turiya
Distance: 70 KMs (Majorly off-road)
Day 4 – Mowgli Comes Home
Turiya – Sillari, 29th Jan 2023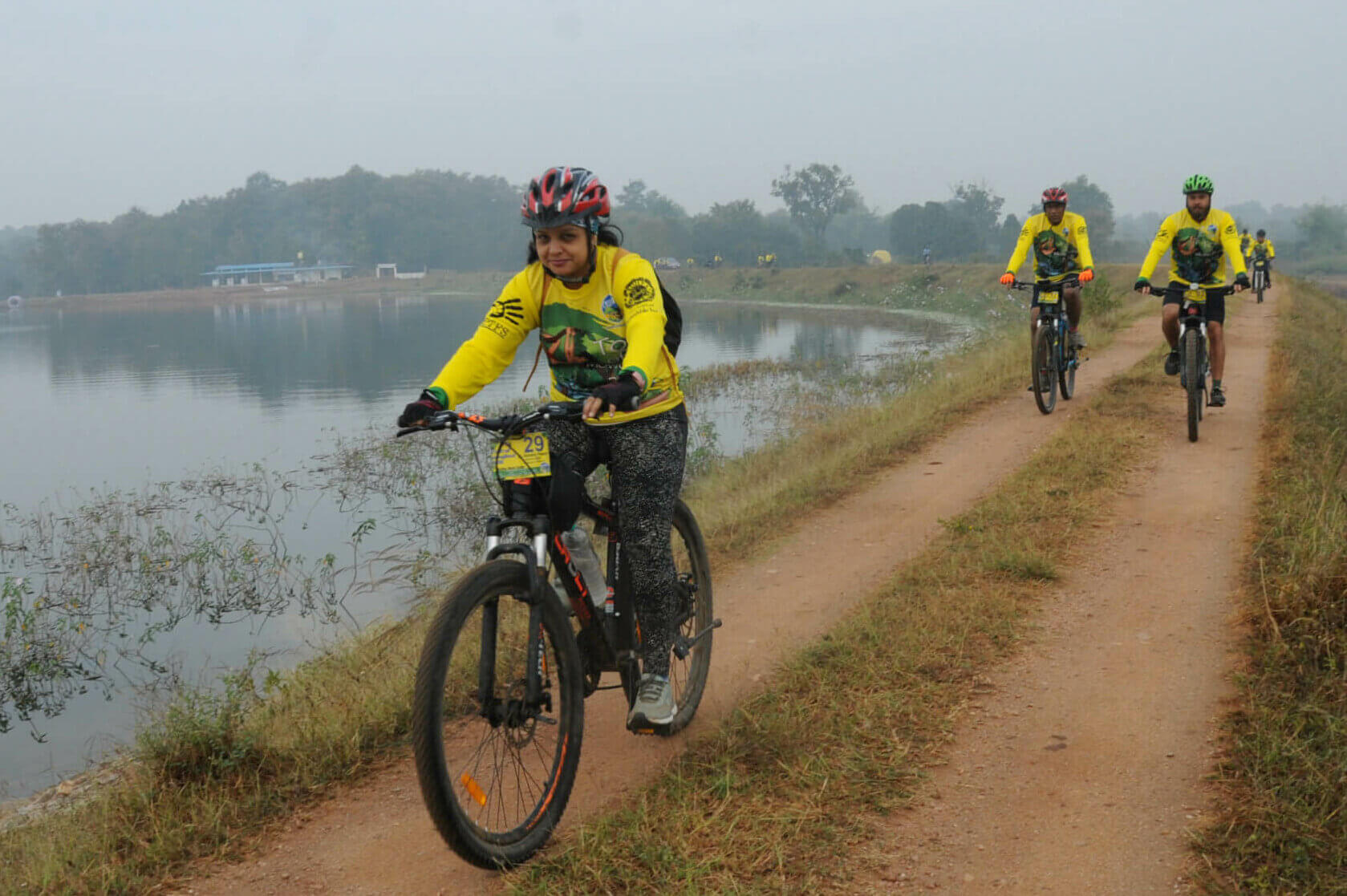 We will finish ToGP by riding on the fourth day through Bawanthadi reservoir backwaters and upon entering Maharashtra state, the Mogarkasa lake. Both of these destinations will enhance your ToGP experience manyfold. We kept Mogarkasa forest lake as the final support station so that you can spend more time here to enjoy the beauty of the place. When you return home, we hope you will have an idea of the harm that we as humans have done to the nature and wildlife and will help you realise that, every living creature has an equal right to survive on this beautiful planet.
Route Attractions: East side of PTR and Mogarkasa forest, Teliya Gate, Kohka Lake, Khursapar Gate, visit to tribal residential school, Bawanthadi river and backwaters, Mogarkasa forest lake.
Start Point: Turiya End Point: Sillari
Distance: 75 KMs (Mix of on and off road)
{Pre-Registration takes 2 minutes to fill and is basically an expression of interest. No fees needs to be paid at this time. We evaluate your profile and send an invitation by email, then you can pay the fees and register for the tour.}